Description
Genshin's Big Slime Plushies are here! (☆ω☆)
Straight from Teyvat, these big blobs of elemental energy are here at Kawaii Sale to you give big slimy hugs!
These round boys are no hostile anymore, and they only have their cuteness left.
So you can squeeze them, no probs!
Hello, Genshin Impact fans
We at KawaiiSale are also huge hecking gamers!  Yes, that's right who would have guessed (・`ω´・). That's why we are very eager to present this limited edition Big Slime Plushie╰(*´w`*)╯for your cuddling and cosplay needs!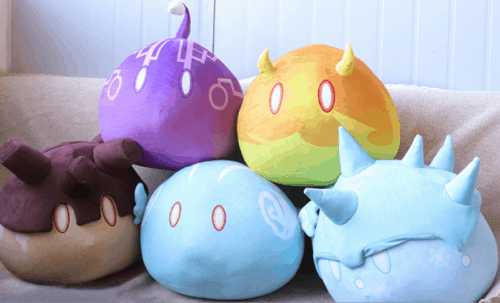 Features:
✨ Made of 100% high-quality materials.
😺 Filled with the spongiest fluff.
💖 Helps with stress problems and with its unbelievably soft material.

Perfect for cosplay. Be the star of the convention!

🥰 Allergy-free and asthma friendly.
😊 Exquisite workmanship, long service life. Made with love. 💗
Fear no allergic reactions!
Ethically sourced, cruelty-free, and made with high-quality non-allergenic cotton for maximum comfort. All our plushies are free of any textile excess and suitable even for people with allergies.
The perfect gift for your loved ones!
Our Plushie collection makes for the perfect gift for any special occasion you can think of! 🥰🎁 You will love seeing your recipient enjoying their new plushies in excitement when they receive them, so leave an everlasting smile on your loved ones by surprising them with a super special and kawaii gift today. 💖(ɔˆз(ˆ⌣ˆc)
Bring Teyvat into our boring world…
Slimes are Common Enemies in the Genshin Impact world, found all around Teyvat. They are typically only a threat in large numbers. They are beings of pure elemental energy. As such they are immune to their own element and can, in some cases inflict others with it (wiki).
A pudgy elemental life form.
It's said that desserts made from slimes of different elements will have incredibly distinctive flavors
Sometimes when there are big releases of energy, big slimes can be brought from underground to the surfaces. They are indeed, weirdly cute!
So we thought of making a line of slime plushies for everyone to enjoy!
Due to high demand, the anemo slime plushie is sold out! Hurry up and get yours now!
PLUSHIE SIZES:
Measurements may be off by 1-3cm due to the nature of how PP cotton expands and compresses.