Description
The best socks for a warm winter 💗
These new knitted long socks are a great way to keep yourself warm and fashionable during this winter.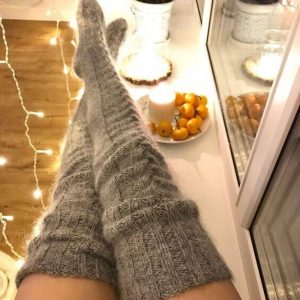 We know you love wearing thick socks in the winter. But why stop feeling warm at the calf when you can get all the way up to the knee with Knitxi, the knee-high winter's wear!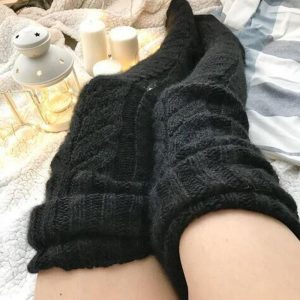 We've taken notes on how the French women dress and that's how we chose Soxi's look. They are not only elegant but are hand knitted with thick wool for maximum warmth!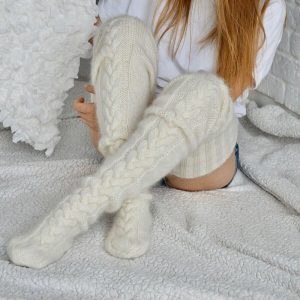 Put them on and you won't even have to put on pants in the winter. Knitxi is a wonderful pair every woman should keep in her drawer. The time is perfect to put on your own pair!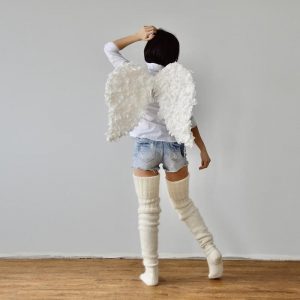 Hey there Fashionistas 💅
We at KawaiiSale like to dress fashionably 💃but also extremely cute (✿◠‿◠). That why we brought to you these special French-looking Knitxi socks! Made of real animal fiber (ethically made of course) for your comfyness.
Why Knitxi is for you:
⛄ Knee-high warmth- Why settle for the calf when you can feel warm and comfy all the way up to the knee. There is nothing better than hand-knitted high socks!
💃 French elegance- Inspired by the retro look of the streets of Paris, Knitxi is a simple but elegant look you can style in the cold seasons.
💗 Cozy home wear- You can now go about your home feeling elegant and cozy! Knitxi are flexible and wider than normal to give you maximum home comfort!
🐏100% Mohair hair – Soft, thick, and stretching up to the knees, in Knitxi you'll feel cute warm elegant when cozied up at home!
Add it to your wardrobe!
Our clothing collection is specially selected to increase your cute wardrobe! Either you use it for cosplay or you just want to look kawaii, you can be sure that we selected the cutest clothing around! (。◕‿◕。). It is also a perfect gift for your loved ones on any special occasion you can think of! 🥰🎁 Surprise them with a special gift today and enjoy their smiles while you give them your gifts. \(*^▽^*)/